Restore your skin to perfect condition by taking care of your skin with Manyo Factory skin care products. The complex formulas made by Manyo Factory is sure to make your skin look exceptionally young!
[Bifida Complex Ampoule Wrap Mask]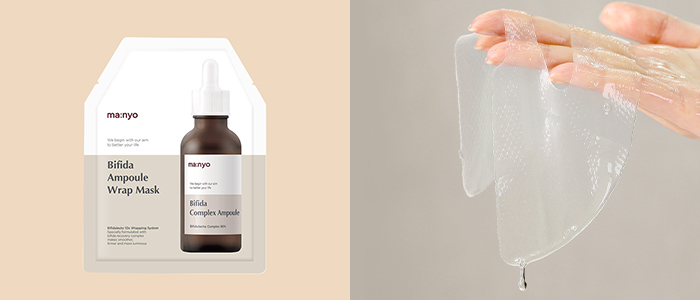 ▲Make your skin radiant again by using the Bifida Complex Ampoule Mask.
Weight: Approx. 30g / per mask
Included: 1 Bifida Complex Ampoule Wrap Mask
(Min order of 4 masks)

▲Manyo Factory: featured brand on the hit K-Drama, 'Crash Landing On You' starring Son Ye-Jin & Hyun Bin
▲Why Bifida Complex Ampoule Products?
- Ampoule consists of high amounts of Bifidalacto (Bifida + Lactobacilus) formula, the probiotics complex that improves skin in elasticity, moisture, and anti-aging.
- 1st place winner for ampoules at the 2018 & 2019 Hwahae Beauty Awards!
▶How the proxy order works[How to request an order]
1. Select an option and proceed to check out. (Please select any date. Date selection is solely for the formal process)
2. Write down your address details on Required Information and complete check out.
[How it works after placing an order]
1. Within 1-2 business days, Trazy Crew will give you a range of shipping options/fees based on the weight & size of the product, and request to make an additional payment for the shipping fee.
2. After receiving the shipping fee, Trazy Crew will send the ordered product. The parcel tracking code will be sent to you by email.