Located about 2 hours away from Seoul, Pocheon is a mountainous city in the northeast Gyeonggi province which boasts great natural scenery and things to do for those who want to get out of the hustle and bustle.
This private van tour to Pocheon gives you the unique opportunity to visit the major destinations in the city, which are especially recommended when the weather is great.
[Pocheon Sanjeong Lake]
Meaning "lake as clear as a mountain well," Sanjeong Lake offers a picturesque surrounding view as you ride the duck boat. Right nearby the lake are an amusement park, swimming pool, cafes and restaurants that you can enjoy.
Duck boat ride: 15,000KRW per boat (30 mins)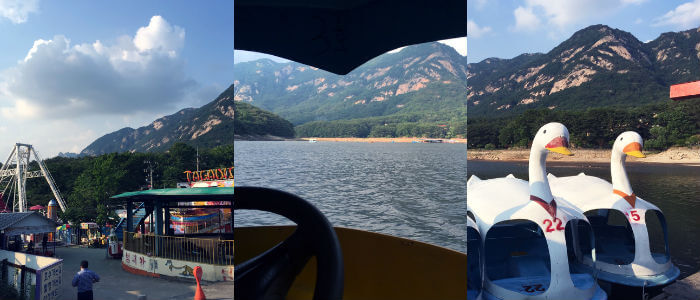 [Pocheon Herb Island]
Yet another filming location of Running Man, Herb Island is a huge park comprised of various themes: Korea's largest herb museum, Santa village, Mini zoo, Flower & waterfall garden, Venice village, Korea's old street, Dinosaur village. You can also experience unique activities such as gondola, water walk and pony ride.
Also situated are various restaurants, cafes and souvenir shops that can fill your appetite.
Entrance fee: 6,000KRW (Adult)/ 4,000KRW (Youth&Children)/Under 3 yrs old is free of charge