Han River (Hangang River) Ferry Cruise has been rated as one of the top tours to do in Seoul!

▲ Story Cruise
Feed seagulls on the cruise and enjoy the fascinating view of Han River during the daytime.

▲ Music Cruise
Admire a beautiful afternoon scenery of Seoul and Banpo Rainbow Fountain.

▲ Music + Fireworks Cruise
Enjoy the romantic fireworks and Banpo Rainbow Fountain on the cruise with your loved ones.

▲ Moonlight Cruise
Take in the glittering night lights of Seoul on the cruise.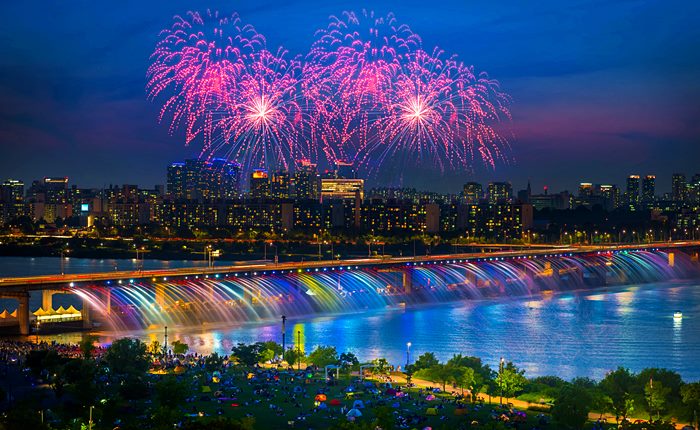 ▲ Banpo Bridge Rainbow Fountain
Operates from Apr 1 ~ Oct 31. It can be canceled due to bad weather conditions or internal issues without prior notice.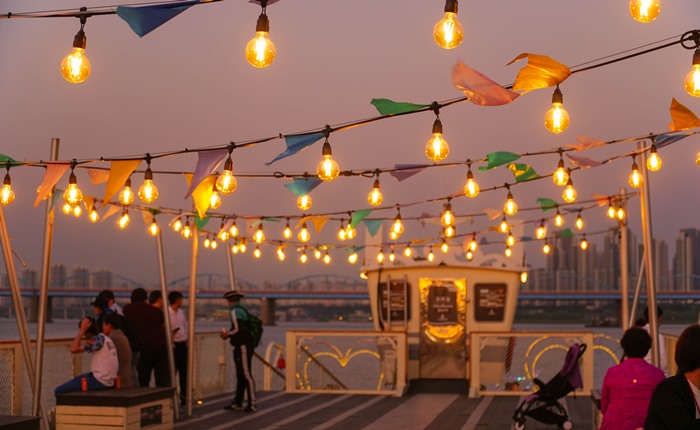 ▲ Cruise Outdoor Deck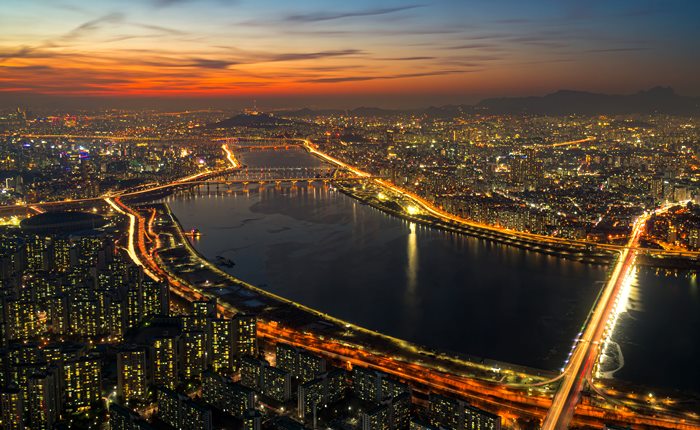 ▲ Han River Night View▶From Yeouido Ferry Terminal
Story Cruise
Availability
*Feb
Every day - 1:00pm / 2:00pm / 3:00pm / 4:00pm / 5:00pm

*Apr~Oct
Every day - 11:30am / 1:00pm / 2:00pm / 3:00pm / 4:00pm / 5:00pm

*Mar & Nov~Dec
Mon~Fri - 1:00pm / 2:00pm / 3:00pm / 4:00pm / 5:00pm
Sat~Sun - 11:30am / 1:00pm / 2:00pm / 3:00pm / 4:00pm / 5:00pm

Duration
Approximately 40 minutes
Activity / Special Performance
- Music performance (Not available on 11:30am cruise)
- Feeding seagulls
Music Cruise
Availability
Music Cruise
- Sun~Fri: 7:30pm
*(Apr~Oct) Sun~Fri: 7:30pm & 8:30pm

Music + Fireworks Cruise
- Sat : 7:30pm
*Not available during Jan~Feb, 2020 (except Jan 24~26, 2020)
Duration
Approximately 70 minutes
Activity / Special Performance
- Live music performance
- Night view along Han River
- See Banpo Bridge Moonlight Rainbow Fountain
- Fireworks (Music + Fireworks Cruise only)
Moonlight Cruise
Availability
- Every day: 9:00pm & 9:20pm
Duration
Approximately 40 minutes
Activity / Special Performance
- Night view along Han River
- Live music performance
▶From Jamsil Ferry Terminal
Story Cruise
Availability
Saturday, Sunday & Public Holidays
at 1:00pm / 2:00pm / 3:00pm / 4:00pm / 5:00pm
Duration
Approximately 40 minutes
Activity / Special Performance
- Live performance
Music Cruise
Availability
- Music Cruise: Saturday, Sunday & Public Holidays at 7:20pm
*August: Sunday & Public Holidays only

- Music + Fireworks Cruise: Saturday 7:20pm
Duration
Approximately 90 minutes
Activity / Special Performance
- Live music performance
- Night view along Han River
- See Banpo Bridge Moonlight Rainbow Fountain
Moonlight Cruise
Availability
Saturday, Sunday & Public Holidays at 9:00pm
Duration
Approximately 40 minutes
Activity / Special Performance
- Night view along Han River
- Live music performance