Parasailing in Jeju Island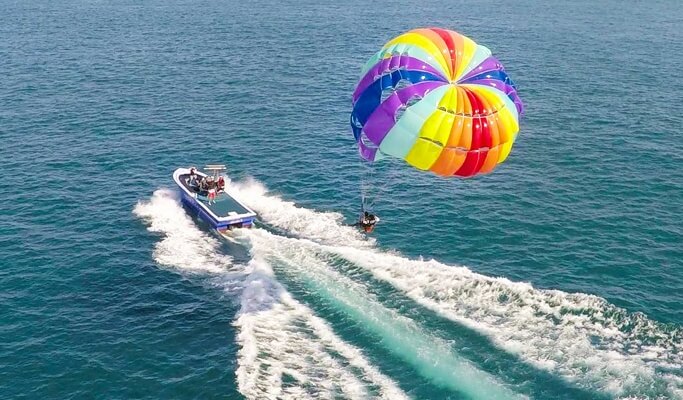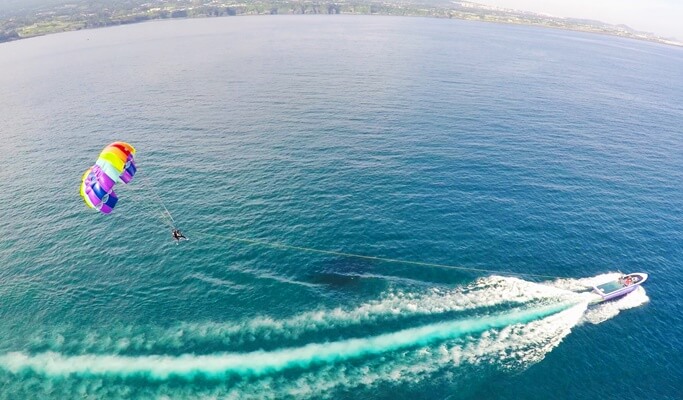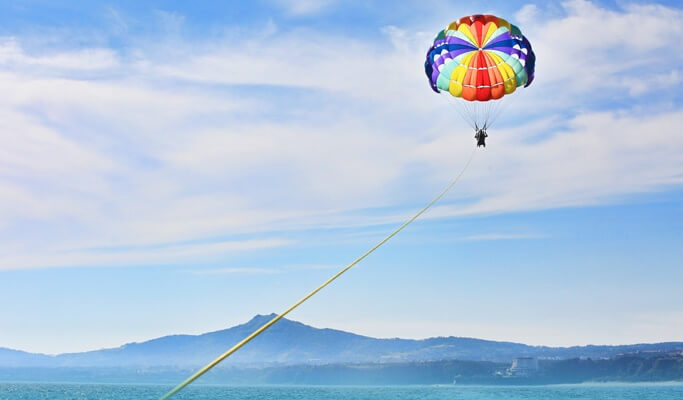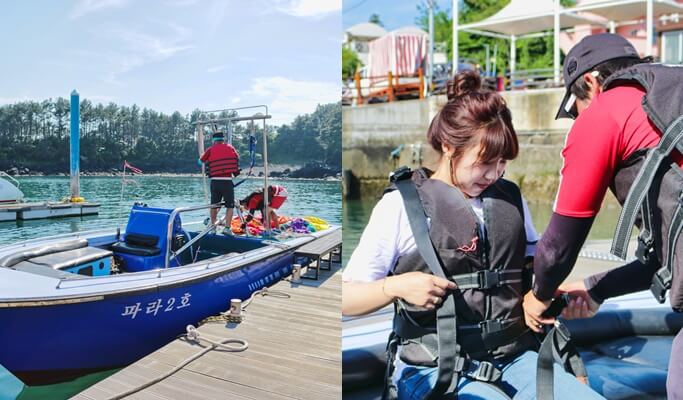 INFORMATION
DESTINATION
REVIEWS

4
Overview
Availability
Every day 10am to 5pm (Jul~Sep)
Price
Options/Price
Included
Per person (5 years old ~): $55 → $52 USD
- Parasailing with an experienced staff
- Life vest
*The minimum age of the activity is 5. Children between 5~13 years old must be accompanied by an adult.
How to book
1. Complete your booking.
Select option, date, time, number of participants and checkout to complete your pay.
2. Check your email.
Upon successful booking, a confirmation email with directions and details will be sent to you.
3. Redeem your voucher.
Show the mobile voucher on your phone to the staff & enjoy your trip!
Please keep in mind
1. If there is strong wind, solo parasailing may not be possible due to safety reasons. This will be decided by the staff on the day depending on the weather conditions.
2. Children under 5 years old, the elderly and pregnant women are not allowed to participate in this activity.
3. If you have any heart/back problems or any other severe conditions that may be affected by this activity, we do not recommend you to participate in this activity.
4. During parasailing, you may get a little dip in the ocean, but if you don't want it, please let us know.
5. Please bring some extra clothes in case you get wet. There is also a shower room.
6. You MUST arrive at the location at least 30 minutes before the departure time to get ready for parasailing. The boat will leave as soon as the preparation is over (about 15 minutes). The boat will NOT wait for those who are late. It is your responsibility to be on time and the ticket will not be refundable if you miss the activity.
7. Staff can speak very basic conversational English. They will show you how to enjoy the activity.

Cancellation policy
Non-refundable after the mobile ticket has been sent.

Select Quantity
Total Price
Booking Due
Book 3 days in advance.
Availability
Every day 10am to 5pm (Jul~Sep)
Meet location
Jeju Jet
Included
- Parasailing experience
- Life vest
You might also like
Jeju Stone Park Discount Ticket
Nexon Computer Museum Discount Ticket
Need help organizing
your own private group trips?
Any questions?

inquiry@trazy.com

@trazy

@cea1141w