Off-road ATV / UTV / Super Buggy Car Experience in Chiang Mai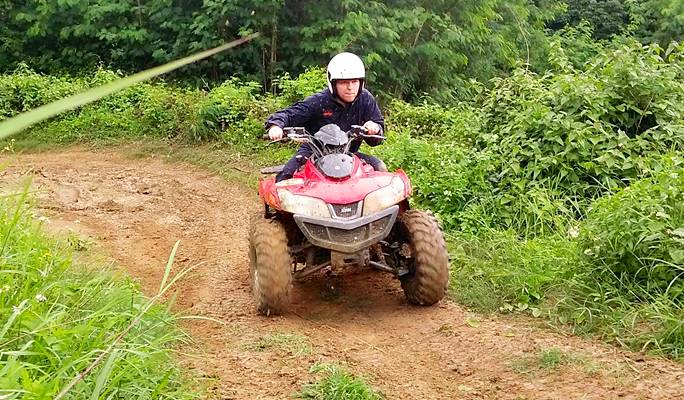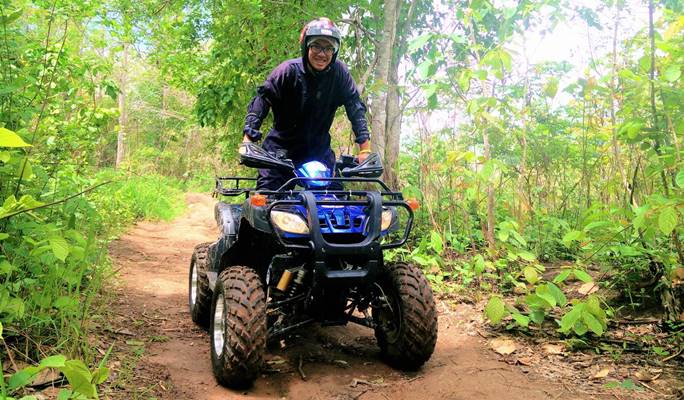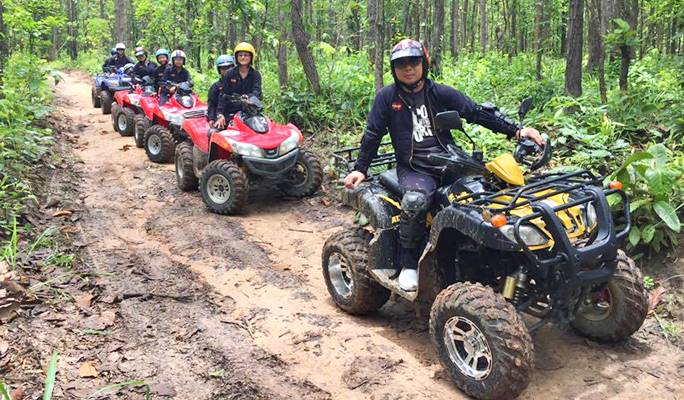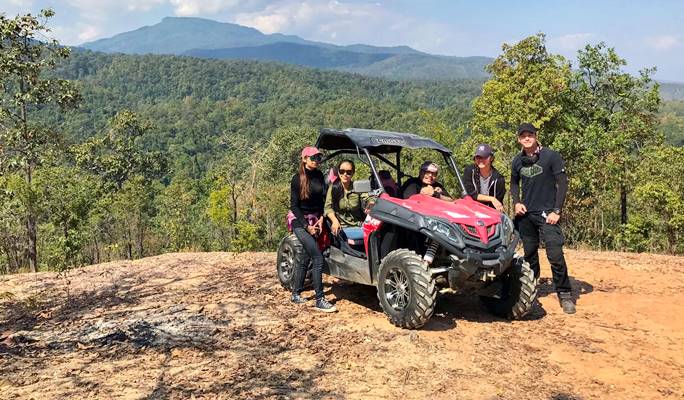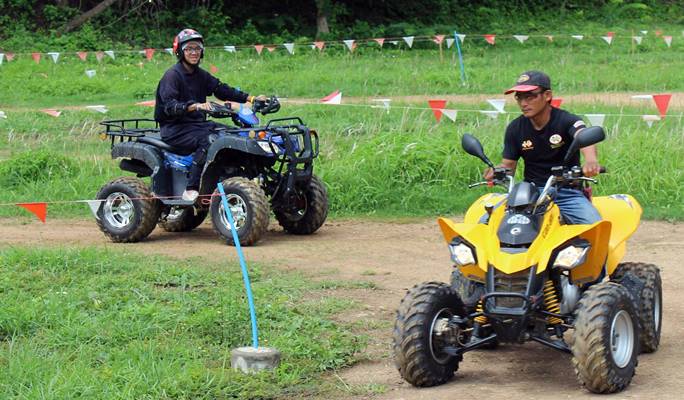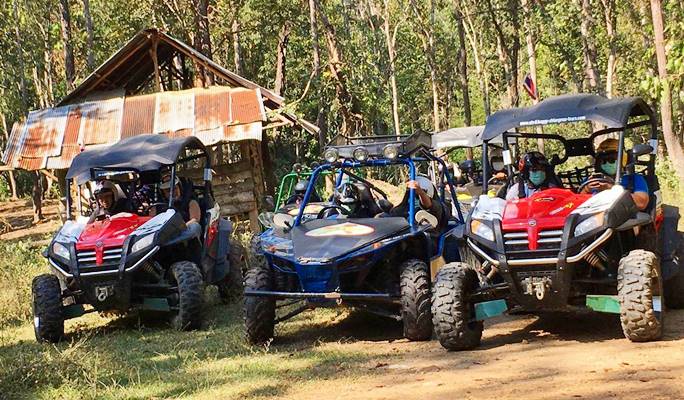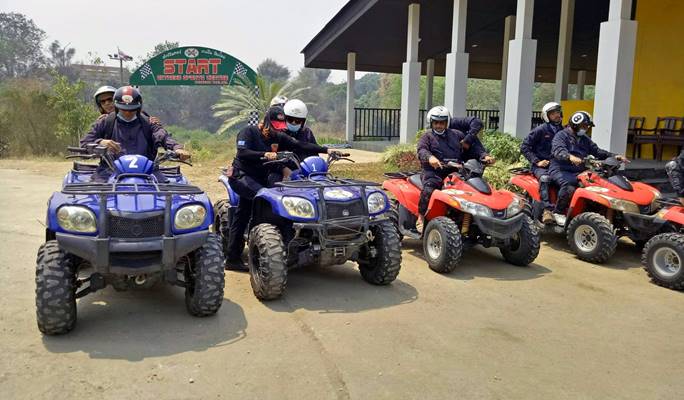 INFORMATION
DESTINATION
REVIEWS

0
Overview
Price
Option/Price
Included


ATV on Off-road Track

1-seater - $47 USD per ATV
2-seater - $56 USD per ATV
- 30 minutes on off-road track
- 1 or 2-seater ATV
- Protective gear
- Jumpsuit
- Instructor
- Free round-trip transportation (optional)
ATV Off-road Tour

1-seater - $59 USD per ATV
2-seater - $94 USD per ATV
- 1-hour off-road ATV tour
- 1 or 2-seater ATV
- Protective gear
- Jumpsuit
- Tour guide
- Free round-trip transportation (optional)
Super Buggy Off-road Tour

2-seater - $150 USD per buggy
- 1-hour off-road buggy tour
- 2-seater buggy
- Protective gear
- Jumpsuit
- Tour guide
- Free round-trip transporatation (optional)
UTV Off-road Tour

2-seater - $183 USD per UTV
- 1-hour off-road UTV tour
- 2-seater UTV
- Protective gear
- Jumpsuit
- Tour guide
- Free round-trip transportation (optional)
*The same price applies for adults and children.
*For UTV & super buggy, only people with drivers license can drive.
*For off-road tours, you will need to pay a cash deposit of 3,000 THB per vehicle.
*Minimum age to drive an ATV alone is 7 years old. If the regular ATV is too big for children over 7, they can drive a mini ATV.
*Photo & video service is available and you can pay the extra fees on the day.
- 40 photos on SD Card or CD/DVD: 300 THB per person
- Video on SD card or CD/DVD: 500 THB per person
- GoPro selfie video on micro SD card: 700 THB per person

[ATV / UTV / Super Buggy]
*ATV - quad-bike varying in size and power from 200cc~400cc engines. Mini ATVs are available for children over 7 years old.
*UTV - four-wheel 625cc or 800cc engine off-road buggy with 2 seats.
*Super buggy - most powerful and largest buggy with a 1000cc engine and 2 seats.
[Free Round-trip Transportation]
*Pick up times from hotels in Chiang Mai central area are 8:30am ~ 9:00am and 1:00pm ~ 1:30pm. Please let us know the name and address of your hotel in the booking page.
*For spectators who are not riding the ATV / UTV / super buggy, the round-trip transportation will cost 200 THB. Please pay once you arrive at Chiang Mai X-centre.
[Opening Hours]
Every day: 9:00am ~ 6:00pm
*You can visit anytime during the opening hours and experience ATV / UTV / super buggy.
How to book
1. Complete your booking.
Select option, date, time, number of participants and checkout to complete your pay.
2. Check your email.
Upon successful booking, a confirmation email with all details will be sent to you. If you have chosen "Free Transfer" option, another email with detailed information will be sent to you within 2 business days.
3.Enjoy the drift karts!
Show the confirmation email on your phone to the staff & enjoy the ride!
Please keep in mind
1. If you want to experience UTV or super buggy, please bring your driver's license. You can bring the drivers license from your country.
2. You can enjoy the other activities (drift go kart, xorb ball, paintball, trail bike, bungee jump) at Chiang Mai X-centre after you have finished riding. You can pay on the day.
Cancellation policy
3 days before the reserved date: 100% refund
2 days before the reserved date: 50% refund
1 day before the reserved date or less: Non-refundable
*If you would like to reschedule your reservation, please check the availability with us at least 3 days before the original reserved date (no later than 5:00pm KST).
Booking Due
Book 3 days in advance.
Availability
Every day
Meet location
Chiang Mai X-Centre in Mae Rim
Your hotel in Chiang Mai central area
Included
- ATV / UTV / Super buggy car
- Protective gear
- Jumpsuit
- Tour guide/instructor
- Free round-trip transportation (optional)
Excluded
- Meals
- Other personal expenses
Need help organizing
your own private group trips?
Any questions?

inquiry@trazy.com

@trazy

@cea1141w