Prepaid 3G Sim Card (EG Sim Card): Data+Voice call+SMS (30 day)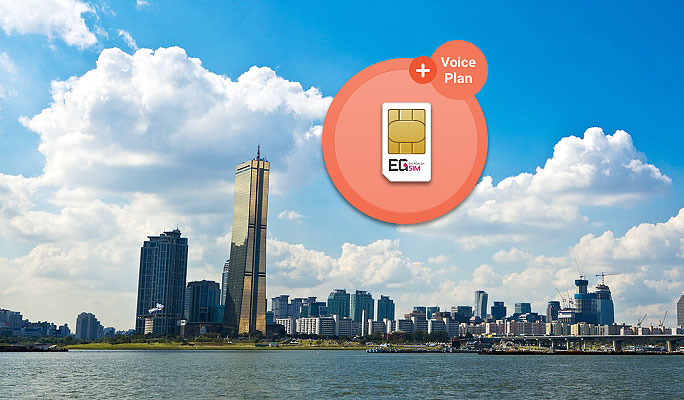 INFORMATION
DESTINATION
REVIEWS

20
Overview
Price
Price
Included
$28 → $23 USD
- SIM card (universal type)
- 1 GB of mobile data
- 5,500won of balance to use for making calls and sending SMS
(equivalent of 20 minutes of outgoing local calls)
- Unlimited incoming calls and SMS
*Valid for 30 days
*The universal type SIM is compatible with phones using standard, micro and nano SIM.
How to book
1. Complete your booking.
Select option, date, time and checkout to complete your pay.
2. Send us a copy of your passport.
Please send us a copy of your passport by email at experience@trazy.com
3. Check your email.
Upon successful booking, a confirmation email with directions and details will be sent to you.
4. Pick up your SIM card.
Show the confirmation email on your phone to the staff. The staff will help you activate your SIM card.
Please keep in mind
1. EG SIMs are NOT available for Korean, Dual nationality holders including Korean nationality, Holders of Alien Registration card or Report card of Domestic Place of Residence of a Foreign nationality Korean, Crew members of Aircraft or Ships, or Members of US Armed Forces.
2. Most 3G wireless providers in Korea use the UMTS (WCDMA)/HSDPA frequency of 2100 MHz, please make sure your phone supports using this frequency in order to enjoy full 3G speed.
3. If your phone cannot locate a proper functional network on your first try, please restart your phone until your phone finds a functioning network. SIM card is on KT Olleh network.
4. Please make sure to unlock your smartphone through your cellphone carrier before coming to Korea, especially if you are from the United States, Canada or Japan. If your smartphone is locked, you CANNOT use this SIM card.
Cancellation policy
1 day before the reserved date: 50% refund
Less than 24 hours before the reserved date: Non-refundable
Booking Due
Book 3 days in advance.
Availability
Every day
Meet location
Incheon International Airport Arex Desk
Myeongdong-Travel Center
EG Mobile Head Office in Insadong
Included
- Mobile SIM card (universal type)
- Mobile data
- Voice calls
You might also like
Grevin Wax Museum Seoul Discount Ticket
$4 OFF
1 hour 30 mins
$18$14
Noryangjin Fish Market Walking Tour
Need help organizing
your own private group trips?
Any questions?

inquiry@trazy.com

@trazy

@cea1141w