Book
1 day in advance by 3:00pm KST
INFORMATION
DESTINATION
REVIEWS

161
Overview
Price
Incheon Airport ↔ Seoul (1~1.5 hours without traffic)
Van for 1~4 pax
(~10 pieces of luggage)
$76 USD per van
Big van for up to 10 pax
(~10 pieces of luggage)
$172 USD per van
Mini bus for up to 15 pax
(~15 pieces of luggage)
$206 USD per mini bus
Gimpo Airport ↔ Seoul (0.5~1 hour without traffic)
Van for 1~4 pax
(~10 pieces of luggage)
$49 USD per van
Big van for up to 10 pax
(~10 pieces of luggage)
$141 USD per van
Mini bus for up to 15 pax
(~15 pieces of luggage)
$176 USD per mini bus
Incheon Airport ↔ Gimpo Airport (0.5~1 hour without traffic)
Van for 1~4 pax
(~10 pieces of luggage)
$76 USD per van
Big van for up to 10 pax
(~10 pieces of luggage)
$172 USD per van
Mini bus for up to 15 pax
(~15 pieces of luggage)
$206 USD per mini bus
*The price above is for one-way.
*Toll fee & airport parking fee are included in the price.
*Available 24 hours, 7 days a week (An additional charge of $10 USD will apply between 12:00am~5:00am)
*Vehicle capacity
1) Van for 1~4 pax
- 4 passengers / 10 bags max.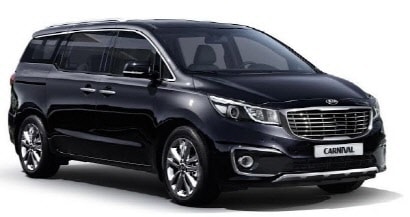 2) Big van for up to 10 pax
- 10 passengers / 10 bags max.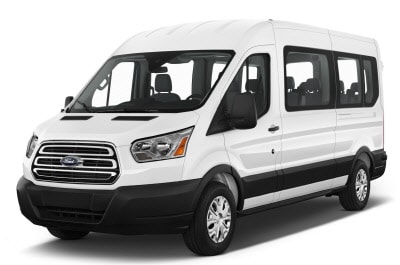 3) Mini bus for up to 15 pax
- 15 passengers / 15 bags max.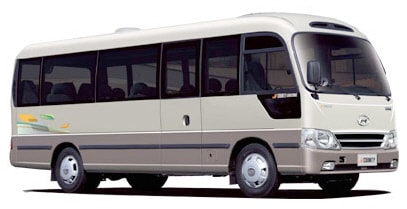 How to book
1. Complete your booking.
Select option, date, time, number of participants and checkout to complete your pay.
2. Check your email.
Upon successful booking, a final confirmation email with all details will be sent to you in a separate email within 2 days.
3. Enjoy your trip.
Meet the driver on the day at the pickup location and enjoy the trip.
Please keep in mind
1. Please fill out everything in the "Required Information" field on the booking page.
2. If you need to book for transfer between 12:00am~5:00am contact us at inquiry@trazy.com.
3. If the luggage that hasn't been informed in advance do not fit in the van for any reason (excess number/size of bags), it is your responsibility to hire another van and pay the full charge on the day.
4. Please meet your driver first before you pick up a sim card, a wifi device or anything else at the airport.
5. If you don't come out to the meeting location for over 1.5 hours from the meeting time without prior notice, it will be regarded as a no-show. In this case, no refund/no change can be made and making a full payment is needed to arrange another driver.
Cancellation policy
2 days before the reserved date: 100% refund.
1 day before the reserved date or less: Non-refundable.
*If you need to reschedule your booking, please check the availability with us at least 1 day before the original reserved date (no later than 5:00pm KST).
Booking Due
Book 1 day in advance by 3:00pm KST.
Availability
Every day 24 hours
Meet location
Incheon Airport or Gimpo Airport
Your accommodation
Included
- Airport pickup service (Private transfer)
- Airport meet & greet service
- Toll fee & airport parking fee
Need help organizing
your own private group trips?
Any questions?

inquiry@trazy.com

@trazy

@cea1141w